Frequently Asked Questions
DID YOU KNOW?
It's possible to get a kidney transplant without going on dialysis?
It can take over a year to work up a recipient or donor for transplant?
It's possible to receive or donate a kidney as a senior?
FAQ's for Kidney Recipients
POSSIBLE AVOIDANCE OF DIALYSIS
Finding a living donor at an early stage of your kidney disease may allow you to avoid dialysis completely. This is called pre-emptive transplant. Without a living donor, you must wait until you are dialysis before being placed on the deceased transplant wait list. Waiting for a kidney transplant from a deceased donor in Ontario may take 4-7 years. Every kidney donated by a living donor means one less person waiting on the deceased donor list.
THE KIDNEY OFTEN LASTS LONGER
A transplanted kidney from a living donor often lasts longer. This is partly due to more time being available to do the necessary tests to get a better tissue match between donor and recipient. A better tissue match means higher compatibility and less risk of organ rejection.
The kidney from a living donor may last 15-20 years on average, compared to 10-15 years for a deceased kidney donation. This is largely because extensive testing is done on the donor to ensure the donor is healthy and has excellent kidney function.
A kidney from a living donor usually works right away in the recipient. A kidney from a deceased donor may take days or weeks before it starts to work normally. In the meantime, the recipient may need dialysis treatments.
NOW.
It is never too early to think about transplantation. The more you know, the better you can navigate the process when or if you need a transplant.
KEEP YOUR FAMILY AND FRIENDS POSTED ON HOW YOU'RE DOING
It's important to talk to your family as early as possible about the fact you might someday need a kidney transplant (even if you never need one!) so that everyone has time to think about how they can help you, or look into their compatibility, before the situation becomes urgent and while you are still feeling healthy.
CANADIAN GUIDELINES FOR TRANSPLANT ELIGIBILITY
All patients with end stage kidney disease are to be considered for a kidney transplant. However, not everyone is eligible. If you don't know if you are eligible for a transplant, speak with your nephrologist to find out for sure. There may be things you can do to make yourself eligible.
ELIGIBILITY CRITERIA CAN CHANGE OVER TIME AND LOCATION
For example, many programs accept older patients and older kidney donors – and even patients with other underlying conditions. The criteria for who can receive or donate a kidney changes and has been extended over time. It is best to check in with your nephrologist to see if you are eligible. A detailed evaluation is required in order to determine whether you are eligible.
For more information on criteria for transplant eligibility: Click Here
We speak with many patients in the early stages, or even later stages, of kidney disease who hope they will never need dialysis or a kidney transplant. Whether you ever need a transplant or not, it's important to be informed just in case you do.
For example, the best patient outcomes are from receiving a living donor transplant or even a pre-emptive transplant before going on dialysis.
So, keeping in touch with family and friends who may be willing to get tested as your kidney disease advances is critical.
For most recipients, the road to finding the gift of a living donor kidney does not involve "a big ask."
It's more like a BIG TELL.
We suggest simply sharing with the people in your circle what you are going through at all stages. Some people may not know how serious your situation is or how they can help. You may be amazed at the support you receive and the people who want to help!
Some people have appealed for a kidney successfully through social media – again, by sharing their stories. Ambassadors can assist you in this if you would like support.
We are here to share! Most patients find that just sharing what they are going through with people they are comfortable with is a great way to start a dialogue. People who understand your situation will often ask how they can help.
Having helped someone improve his or her quality of life – and knowing that kidney donation does not affect life expectancy – can be very rewarding for the living donor. Donors live healthy, normal lives with one kidney.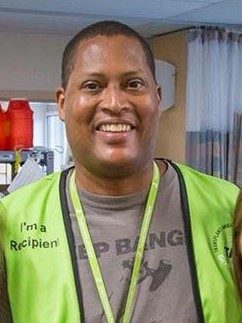 FAQ's for Potential Kidney Donors
KNOW YOUR BLOOD TYPE
The initial steps in determining if you are able to donate involves examination of your health history and determining your blood type. It is important that the donor has a blood type that is compatible (well-matched) with the recipient. You can find out what your blood type is by having a blood sample taken by your family doctor or your transplant coordinator. As well, many people who donate blood will have a card from the Canadian Blood Services stating their blood type.
CONTACT A LIVING DONOR COORDINATOR
The first step to determine your suitability is to complete a health history form. This information will be reviewed by the kidney donor team and your suitability will be determined. The kidney donor coordinator will contact you once the health history has been reviewed to discuss the next step.
List of Living Donor Centres in Ontario
You can consider the Living Donor Paired Exchange Registry. The LDPE Registry works in partnership with Canadian Blood Services. This program permits a donor of an incompatible pair to donate to another recipient in Canada to whom they are compatible while their original recipient receives a kidney from a different living donor in the program that is compatible with them. In this program, a donor will only donate a kidney if their original intended recipient receives a kidney from within the program.
Kidney Paired Donor Exchange Program
HIGH SUCCESS RATE
A kidney transplant from a living donor generally has a higher success rate because the kidney may be a better genetic match and, therefore, not as likely to be rejected. Also, the time between the donor and recipient surgeries is usually minimal, which may improve long-term transplant survival. Surgery can be planned for a time when both the donor and recipient are healthiest, which positively affects healing time.
Generally, recipients with a kidney from a living donor have a 95% success rate at the end of one year, and transplanted kidneys from living donors can remain healthy for 15-18 years. For transplants from a deceased donor, the success rate is also high. Eighty-five to ninety percent of these kidney are working well after one year and will last, on average,  from 10-15 years.
Although the Living Donation Team cannot predict when the surgery will happen, if assessments are complete for both donor and recipient, depending on the transplant centre, the process may take as little as six months from the start to the surgery date. In comparison, a recipient on the deceased donor list may wait 2-5 years for a transplant. Patients who have received a new kidney often feel as if they have received a new lease on life.
(Source: https://www.lhsc.on.ca/multi-organ-transplant-program/living-kidney-donation)
RISK SAME AS ANY MAJOR SURGERY
Kidney donation is a major operation. Though living donors are in good health, there are risks related to having surgery. This surgery is similar to gallbladder removal. The donor team will talk to you extensively about the risks involved.
FOLLOW UP
Many kidney donors are now being followed up annually by a nephrologist. Find out if your centre provides this important service for donors.
Why kidney donation might be right for you
COMPREHENSIVE HEALTH SCREENING
Any health issues that you didn't know about already may be found during your work-up. If this is the case, this may mean that you will be able to get any medical help that you need for these conditions earlier than you otherwise would have.
OPPORTUNITY TO SAVE SOMEONE'S LIFE
You may benefit from seeing the restored health of your recipient. Most living donors say that they would make the same choice again. Studies have shown that donating a kidney makes donors feel good about themselves and creates stronger ties between family and friends.
TALK TO SOMEONE WHO HAS DONE IT
If you want to speak with someone who has been through it, reach out to one of our living donor Transplant Ambassadors.
TIME OFF WORK
How much time will I need to take off work? Full recovery may take up to 12 weeks. You may be able to return to work within three to six weeks depending on the type of work you do. Before the surgery, you may also need some time off work for medical tests and appointments, counselling sessions, and other aspects of the pre-donation evaluation process.
TRILLIUM GIFT OF LIFE REIMBURSEMENT PROGRAM
The Program for Reimbursing Expenses of Living Organ Donors (PRELOD) provides reimbursement of up to $5,500 for qualified expenses such as travel, parking, transit, meals, accommodation, and a loss of income subsidy. For program details, please contact the PRELOD Administrator at prelod@giftoflife.on.ca or at 1-888-9-PRELOD / 416-619-2342.
EMPLOYER SICK LEAVE COVERAGE
Donors who work often qualify for sick leave coverage from their employer's company health plan.
For more information on the Trillium Gift of Life Reimbursement Program: Click Here
YOU HAVE TO RETAIN EXCELLENT HEALTH AS YOU AGE TO BE ABLE TO DONATE A KIDNEY TO YOUR CHILD.
If your child needs a kidney transplant later in life, you may not be healthy enough to donate at that time. You may very likely need to depend on someone else who is not your child's parent to donate to them.
The chances of your child needing a transplant – and you being able to donate at that time, are quite low – especially if there is no history of kidney problems in the family.
Going through the living donor process will help you be more knowledgeable if your child or another family member needs a kidney donation in the future. Beyond that, the comprehensive testing you would go through as a donor would uncover any potential genetic links or conditions.