About Us
We know what you're going through because we've been there.
It's not easy to understand kidney failure, dialysis, and kidney transplantation. WE CAN HELP.
Transplant Ambassadors are kidney transplant recipients or living kidney donors who welcome the opportunity to share their personal experiences with you, to help guide you through your kidney journey.
Research Roots
In 2016, living donor kidney transplant rates had remained stagnant for more than a decade. This prompted a group of kidney patients and living donors to get together to discuss the barriers to kidney transplantation and what could be done to overcome them. A key recommendation from this workshop was to establish a peer support program embedded within the hospitals to provide kidney patients, their families, and potential kidney donors with regular opportunities to see and hear from people who had successfully transplant experiences. Shortly after that, the Transplant Ambassador Program (TAP) was developed by a group of dedicated volunteers and became part of one of the 18 multidisciplinary research projects which would make up Can-SOLVE CKD, a national kidney research network of kidney researchers and patients.

Critical to TAP's integration into the 27 regional renal hospitals across Ontario, is an ongoing collaboration with the Ontario Renal Network (ORN) and Trillium Gift of Life (TGLN) as part of the Access to Kidney Transplant (AKT) Strategy which has a goal of increasing living donor transplants in Ontario to at least 300 annually by 2025.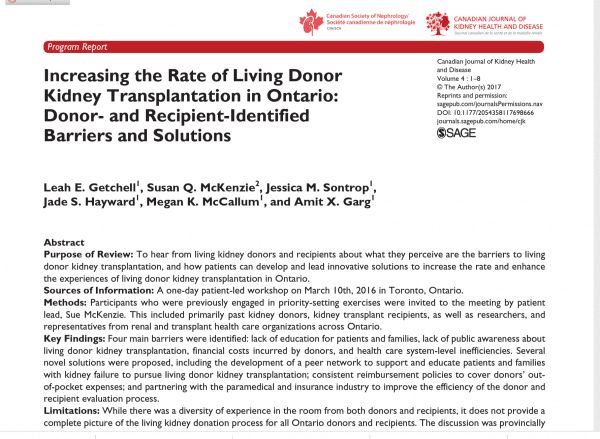 The TAP Difference
TAP Ambassadors are registered volunteers at renal hospitals and complete vulnerable sector police checks.
Transplant Ambassadors receive ongoing training related to privacy, confidentiality, and program improvement.
TAP began as a research study and adheres to strict privacy and confidentiality protocols initially approved by the Research Ethics Board (REB).
Transplant Ambassadors are integrated and visible in the kidney clinics across Ontario to give hope to patients and normalize the idea of transplant.
Transplant Ambassadors are available to provide support in clinic and through Zoom, phone, or email.
TAP follows strict reporting and measurement analytics in order to understand our impact. Is the program helping to increase transplant rates?
TAP strives to build ongoing relationships with patients and donors and to connect them with Ambassadors of similar backgrounds or experiences.
Transplant Ambassadors are real people, not stories, to whom patients and potential kidney donors can reach out directly.
TAP is an independent, patient-centred, patient-led program driven by passionate volunteers who are also kidney donors or transplant recipients.